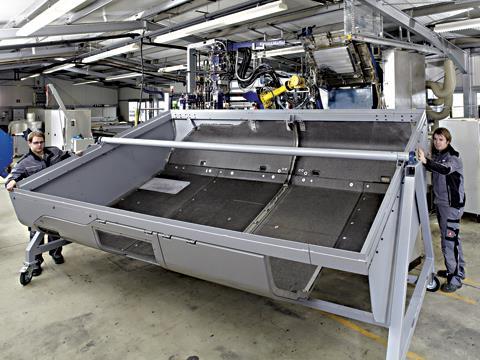 EUROPE: Bayer Material-Science has developed a prototype enclosure for underfloor engines on diesel multiple-units which it says is 35% lighter and 30% cheaper than steel and aluminium equivalents. The prototype is designed for a Bombardier Itino DMU.
Engine enclosures must be able to withstand high mechanical loads from ballast impacts, with chemical resistance to prevent oil from leaking onto the track. They must also meet strict fire protection requirements.
Instead of using glass fibre reinforced structures with a rigid foam core, the prototype enclosure uses components manufactured in a complex three-dimensional shape using a spray/press process. A honeycomb core is covered on the top and bottom with glass fibre mats then sprayed from both sides with the Baypreg system, which contains the flame retardant and optional glass fibres. The moist composite is pressed in a mould at 130°C to bind the components.
Components up to 4 m2 are possible, with good dimensional stability enabling precise installation.