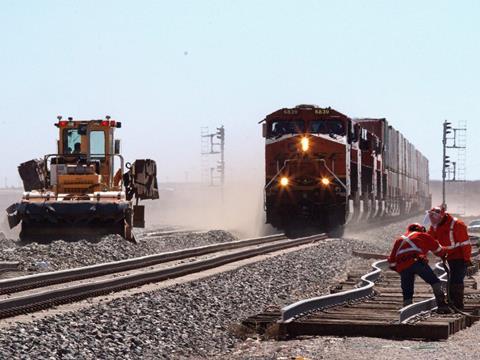 USA: BNSF is planning to invest $3·3bn under its 2018 capital plan unveiled on January 31. This the same level of spending as 2017, and brings the total investment to more than $60bn since 2000.
Within the total figure, $2·4bn has been allocated for maintenance and renewal of both infrastructure and rolling stock. 'Our infrastructure is strong and robust', explained President & Chief Executive Officer Carl Ice. 'Our efforts to normalise our maintenance investment have positioned us to replace the right assets at the right locations at the right time. This allows our maintenance investment to be at similar levels year-to-year.'
Among the infrastructure priorities are the replacement of more than 800 km of rail and nearly 3 million sleepers, as well as reballasting. Track surfacing and/or undercutting will be undertaken on work on more than 20 000 route-km.
BNSF expects to invest $300m in new rolling stock during 2018, including freight wagons and other equipment. Around $100m has been allocated for Positive Train Control in order to meet the December 31 implementation deadline. BNSF says it is the only Class I freight railroad to have completed the installation of PTC on all its federally mandated subdivisions.