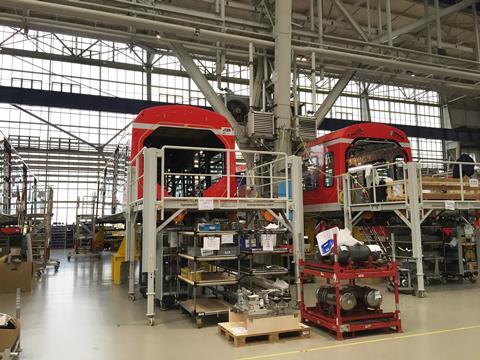 GERMANY: As part of its corporate restructuring programme announced in October, Bombardier Transportation confirmed on December 9 that it was 'repositioning' its German operations 'to strengthen its position as a leading manufacturer of railway technology'.
Citing a 'challenging market environment', the company said the 'strategic realignment' would put 'a strong focus on product standardisation and site specialisation in order to become more efficient and effective'. Up to 2 500 jobs are expected to go, with the plants in Hennigsdorf, Görlitz and Bautzen reportedly most affected. According to union IG Metall, further details of the cuts at each plant are to be discussed on December 13. The reductions would account for around half of the 5 000 jobs to be cut from the 39 400 currently employed at the rail business under Bombardier Inc's plan to reduce its global headcount by 7 500.
Michael Fohrer has been appointed as Chairman of the Bombardier Transportation GmbH management board, in succession to Germar Wacker, and will continue to serve as President of the Locomotives and Light Rail Vehicles business units. Konrad Wiebalck has been appointed as HR Director in place of Dr Susanne Kortendick who is leaving the company after nine years.
Supervisory Board Chairman Wolfgang Tölsner said Fohrer and Wiebalck would support the management team 'to implement the transformation and extend the competitiveness of Bombardier Transportation' in 'close co-operation with the social partners'. The German restructuring is reportedly expected to deliver cost savings of around US$300m by the end of 2018.