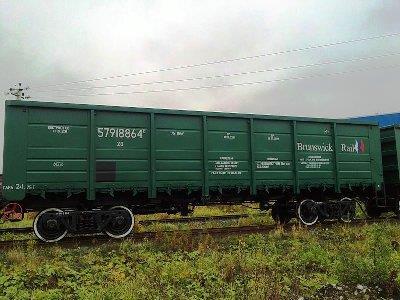 RUSSIA: Brunswick Rail Ltd has appointed Houlihan Lokey (Europe) Ltd as financial advisor to support a strategic review of its capital structure in response to what it the leasing company sees as 'fundamental and permanent changes' to the Russian market brought about by falling traffic volumes, declining lease rates and customers moving from dollar to rouble denominated contracts.
Announcing the review on January 4, Brunswick said it would focus on the balance sheet and was not intended to impact employees, customers, suppliers or trade creditors.
Brunswick owns 25 700 wagons, or around 2% of the national fleet. Since its peak operating performance in 2012, EBITDA has declined from US$257m to US$86m for the year to September 30. Open wagon daily spot rates have decreased from US$50 to less than US$7, while the rouble has declined from 30 to 72·92 per dollar, resulting in customers shifting contracts from dollars to roubles; Brunswick expects that more than 90% of its revenues will be rouble denominated by the end of 2017.
The company said the current downturn was expected to last 'for the foreseeable future', with traffic volumes being linked to the wider economy and expected to remain 'subdued'. In the event of a return to growth, the company envisages that wagon overproduction and excess manufacturing capacity as well as inadequate write-offs in recent years would create an effective ceiling for wagon prices and lease rates.
Brunswick said it has sought to mitigate the impact of the market changes by focusing on clients with high payment discipline and credit quality, optimising the fleet to maintain utilisation and cutting expenditure.
To support its refinancing plan, in December Brunswick Rail and Alfa-Leasing signed term sheets for two sale and lease back deals which would raise up to 4bn roubles to repay existing syndicated facilities maturing in July.