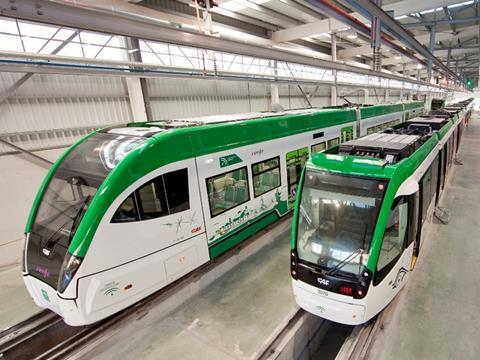 CAF: Turnover at CAF was €403·9m in the first quarter of 2013, according to results announced by the Spanish rolling stock manufacturer on April 23. Export contracts accounted for 82% of this figure.
EBITA was €55·9m and profit before tax €29·7m. As of March 31, the CAF order book stood at €4 866·3m, of which 85% was for customers outside Spain.
Highlights of the first quarter included the award of two contracts to maintain Class 7000 and 7500 EMUs that CAF has supplied to CPTM of Brazil, running for five years and worth €120m in total.
As part of the turnkey consortium building the 8·6 km first phase of what it says is Asia's first catenary-free electrified light rail route, CAF is supplying Urbos trams as well as signalling, electrification and fare collection systems to Kaohsiung for €100m.
Under a contract worth €44m, 16 three-section trams are to be supplied to Tallinn in Estonia. CAF has also been awarded a contract to supply 12 seven-section Urbos 3 trams to the German city of Freiburg for €40m.