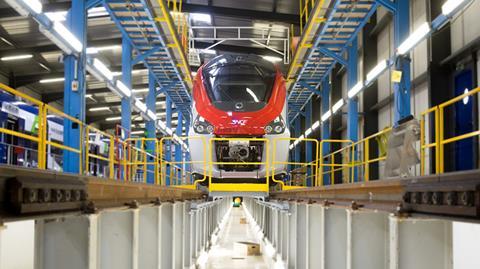 FRANCE: CAF is in the final stages of taking over Alstom's Reichshoffen rolling stock factory in Alsace, the Spanish company said on June 20.
Alstom offered to divest the former De Dietrich plant and the Coradia Polvalent train family produced there in order to obtain European Commission approval for its acquisition of Bombardier Transportation, which was completed in January 2021.
Following negotiations with CAF and Škoda Transportation, an agreement with CAF was announced in November 2021. In May this year the European Commission said this would not raise competition concerns.
CAF is also acquiring the design and intellectual property rights to the former Bombardier Transportation Talent 3 family.
CAF says it has a firm commitment to France, which is one of the transport sector's largest markets and where it has now won a number of major contracts for inter-city and RER trains and trams.
It said acquiring the Reichshoffen plant would increase its technical and production capacities, adding to its existing operations at the former Soulé plant at Bagnères-de-Bigorre in Hautes-Pyrénées and consolidating its position as 'the second most important railway industrial benchmark in the country'.