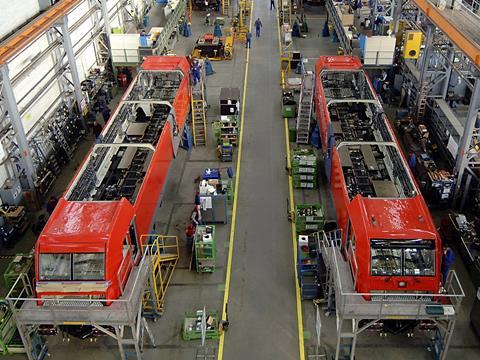 BOMBARDIER: A definitive agreement for pension and insurance fund investor Caisse de dépôt et placement du Québec to make a US$1·5bn investment in a new holding company for Bombardier Transportation was announced on November 19. The transaction values Bombardier Transportation at US$5bn, and subject to regulatory approval is expected to close in the first quarter of 2016.
Under the agreement, CDPQ would acquire shares in Bombardier Transportation (Investment) UK Ltd ('BT Holdco') which will be convertible into common shares initially representing 30% of BT Holdco, subject to performance incentive adjustments.
BT Holdco will own all the assets of Bombardier's current Transportation business. It will be governed by a new board composed of seven members, three named by CDPQ. Alain Bellemare will chair the board, and Lutz Bertling will remain as President of Bombardier Transportation.
The agreement is the result of a review which saw Bombardier examine 'a wide range of strategic options' for its rail business, including a possible IPO or a competitive international auction process for the private placement of a minority stake. Bombardier said the transaction would 'crystallise the value of Bombardier Transportation and strengthen Bombardier's financial position, with no increase in debt.' Bombardier intends to use the proceeds for general corporate purposes.
Bombardier can buy back CDPQ's equity interest in BT Holdco at any time on or after three years, at the higher of the fair market value on an as-converted basis or a minimum three-year 15% compounded annual return (or at any time after three years, a 15% compounded annual return).
If either CDPQ or Bombardier seeks to sell its stake in BT Holdco, it will first offer it to the other party. CDPQ can trigger an IPO or sale of BT Holdco after five years.
The terms of the transaction provide 'strong' performance incentives for Bombardier Transportation. For each of the first five years, CDPQ's ownership (on conversion) and return may be subject to upward or downward adjustments based on a jointly agreed performance target. If Bombardier Transportation outperforms, CDPQ's percentage ownership on conversion of its shares decreases by 2·5% annually, down to a minimum of 25%. The convertible shares' minimum return would also decrease from 9·5% to a floor of 7·5%.
In the event of underperformance, CDPQ's percentage of ownership on conversion of its shares would increase by 2·5% annually up to a maximum of 42·5%. The convertible shares' minimum return would also increases by 2·5% up to 12%.
To provide financial stability, the parties have agreed that Bombardier should have a cash reserve of at least US$1·25bn. In the event it falls below that level, a Special Initiatives Committee would be appointed to develop a plan to restore it.