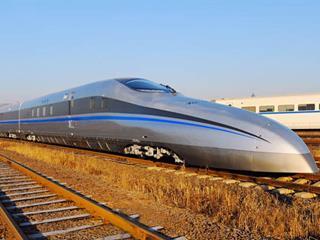 CHINA: CSR Qingdao Sifang unveiled an ultra high-speed test train in December. As foreshadowed in the January 2011 edition of Railway Gazette International, the six-car trainset is intended to give engineers the opportunity to research train and track behaviour at speeds up to 500 km/h.
Researchers will explore fields including wheel-rail dynamics, structural reliability, new materials and technologies, comfort, vibration and noise. Other tests will examine safety parameters, current collection and aerodynamic performance; the train has a long, pointed nose said to resemble a traditional Chinese sword.
All vehicles are powered to give a total rating of 22·8 MW. Local reports suggest that the train features very lightweight structures and materials including carbon-fibre composites and a number of nano-components.
The trainset was developed with the support of the Ministry of Railways and the Ministry of Science & Technology, with input from the China Academy of Railway Sciences, Beijing Jiaotong University, Southwest Jiaotong University and the Institute of Mechanics, part of the Chinese Academy of Sciences.