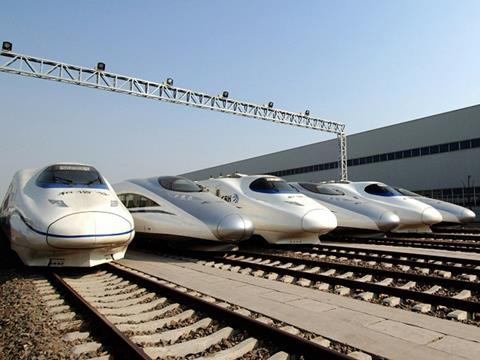 CHINA: In a statement to the Shanghai Stock Exchange on December 30, the two state-owned rolling stock manufacturers China CNR Corp and CSR Corp confirmed that they had agreed terms for a merger to create the world's largest rail vehicle supplier, subject to final ratification by the State Council.
The deal was reportedly finalised at board meetings of the two companies in Beijing on the previous day. Under a draft proposal submitted for approval by the State Council on December 3, CSR would acquire the shares of CNR, which would then be delisted on both the Hong Kong and Shanghai stock exchanges. The combined company would be renamed China Railway Rolling Stock Corp, to be known as CRRC.
Following the final round of negotiations, the companies have agreed that each CNR share will be exchanged for 1·1 shares in CSR. CSR's Shanghai-traded A shares have been valued at 5·63 yuan against 6·19 yuan for CNR's while the two companies' Hong Kong shares are priced at HK$7·32 and HK$8·05 respectively. Share prices for both companies rose sharply when trading resumed on December 31, having been suspended since October 27 during the merger negotiations.
'This merger will increase the scale of the combined company, raise profitability and create a global leader', the companies explained in their joint statement. Citing figures from a report by German transport consultancy SCI Verkehr, the companies said their combined revenue for 2012 was almost HK$200bn, which was more than twice the revenue of third-placed Bombardier Transportation.
CNR and CSR already have more than 90% of China's domestic rolling-stock market, and the merger is intended to improve their ability to compete in the international marketplace. 'The new company will increase its global market share and accelerate its internationalisation', the companies explained. The merger 'will avoid wastage of resources, improve the efficiency of investment, create a united strategy in overseas expansion and focus on gaining a more advantageous position in the international competition.'
Read more about CNR and CSR in our Global Marketplace feature in the December 2014 issue of Railway Gazette International – available to subscribers in our digital archive. Analysis of the merger proposals in the January 2015 issue.