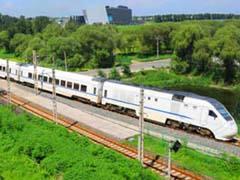 CHINA: CSR Zhuzhou has signed a Framework Agreement on Strategic Co-operation with the electrical engineering department of Tsinghua University.
The agreement covers a commitment to create a joint 'innovation platform' to undertake research and development of electrical control equipment, traction drives, power systems and transmission components.
The joint venture is intended to enable CSR to improve the quality of its systems integration techniques and allow the industrial-scale production of traction motors, inverters and other high-voltage systems, all of which would be covered by 'China-exclusive' intellectual property rights.
The relationship builds on an existing agreement between CSR and the Chinese Academy of Sciences to develop a research centre for 'new electronic devices', whilst CSR and Southwest Jiaotong University have set up a joint graduate training facility.