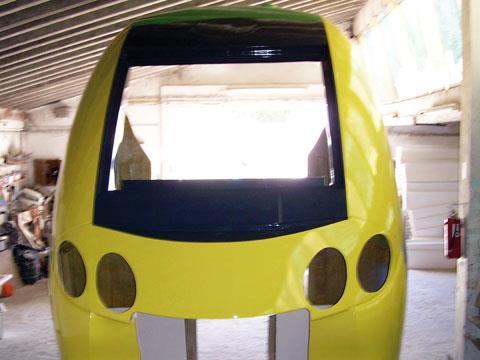 EUROPE: A prototype train cab has been developed under a joint industry and academic project which aims to adapt composite technologies used by Formula 1 cars for rail applications.
Racing cars make extensive use of extremely strong and lightweight carbon composites, but these highly specialised materials are uneconomic for rolling stock. Instead the prototype cab uses a sandwich of glass-reinforced plastic around a polymer foam core and aluminium honeycomb. This eliminates the need for steel elements, reducing the part count.
The cab was developed to match the requirements of Bombardier's Spacium trains for Paris suburban services. 'We wanted the lightweight cab to do everything a steel one does', explains Dr Joe Carruthers of NewRail, the railway research centre at the University of Newcastle in the UK. Carruthers compares the prototype cab to an automotive manufacturer's concept car, showing what is now possible and informing future commercial development.
The £450000 project was undertaken by NewRail in partnership with Bombardier and Portuguese composite manufacture AP&M. It was partly funded under the European Commission's De-light transport project, which aims to make better use of lightweight materials. NewRail now hopes to undertake a crash test ahead of commercial application.
The prototype cab will be displayed on NewRail's stand at InnoTrans.