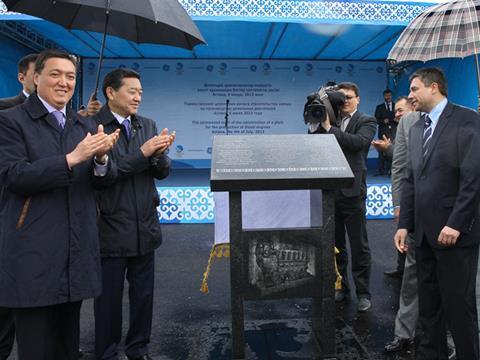 KAZAKHSTAN: Prime Minister Serik Akhmetov formally launched construction of a diesel engine factory in Astana on July 4. The plant is being developed by a joint venture of national railway KTZ, GE Transportation and TransmashDiesel.
The plant will assemble 300 GE Transportation GEVO engines a year, in eight, 12 and 16 cylinder models rated from 2 200 kW to 4 500 kW. Production is expected to start in December 2014, with domestic content gradually increasing from 8% to 51% by 2020.
Intended for customers in the former USSR and Mongolia, the engines are to be used in locally-assembled Evolution locomotives, for maritime applications and for the repowering of 2TE116 locomotives.
Unveiling a plaque to mark the start of work, Akhmetov said he appreciated the rail sector's contribution to the government's policy of rapid industrial development. KTZ President Askar Mamin said railway engineering had been created as a 'virtually new industry' in Kazakhstan, increasing in value from 10bn tenge in 2008 to more than 200bn in 2013, and 'we plan to increase this figure to 300bn tenge in 2015'.