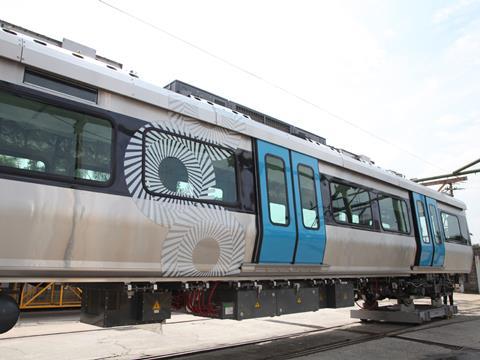 SOUTH AFRICA: Construction of a rolling stock manufacturing plant at Dunnottar is to begin in the third quarter of this year, the Gibela joint venture of Alstom (61%) New Africa Rail (9%) and Ubumbano Rail (30%) has confirmed.
The plant to the southeast of Johannesburg will produce 580 of the 600 X'Trapolis Mega commuter electric multiple-units which Passenger Rail Agency of South Africa ordered from Gibela; the initial 20 are to be supplied from Alstom's Lapa plant in Brazil, with first scheduled to arrive in South Africa in November.
The R51bn order signed in October 2013 covers a total of 3 600 EMU cars in four and six-car sets. The 85 000 m2 Dunnottar site will be able to produce 62 trainsets per year. Production will run for 10 years, and the site will provide technical support and supply spare parts for 18 years.
Alstom said the facility will employ at least 1 500 people, and create 'thousands' of indirect jobs among suppliers over the first 10 years, reaching a local-content level of over 65%. Recruitment for permanent staff is at an advanced planning stage, and an training programme is underway in Brazil.
'This project is one of the biggest in rail transport worldwide and Alstom through Gibela is proud to be part of it', said Gian Luca Erbacci, Senior Vice-President for Alstom Transport Middle-East & Africa. 'This illustrates Alstom's strategy to strengthen its presence at both global and local levels, thanks to its worldwide industrial footprint and strategic partnerships that enable proximity with its customers.'
Erbacci described the PRASA X'Trapolis Mega EMUs in detail in the July 2014 issue of Railway Gazette International, which subscribers can access in the digital archive.