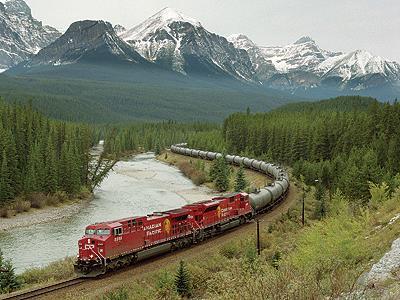 CANADA: Canadian Pacific has completed its second share repurchase programme, the railway confirmed on February 8.
CP had announced on December 11 its intention to buy back up to 755 000 common shares from two third-party sellers under two consecutive programmes to be completed by May 14. The first completed on January 23 saw CP buy back 134 000 shares for a total of C$29·5m, while the second covered 621 000 shares with an aggregate value of C$135·4m.
Thanks to its 'best ever' fourth quarter results, including an operating ratio of 56·1, CP finished 2017 with a record low for the year of 58·2, an improvement of 40 basis points. Reporting its annual results on January 18, the railway said total revenues had increased by 5% to C$6·55bn from C$6·23bn in 2016.
According to President & CEO Keith Creel, 'the fourth quarter was a record by almost every measure and should be celebrated by the men and women in the CP family who work hard every day to deliver for our customers and shareholders. 2017 was a positive year where we continued to build the foundation for sustainable long-term growth'.
Creel believed that CP had 'built momentum' in 2017, 'thanks to our strategic approach to growth combined with our continued focus on operational excellence'. This had left the railway 'well positioned to start 2018', he added. 'We look forward to delivering another year of record results in a safe and disciplined manner'.
Creel said the railway's 2018 plan would 'balance strategic growth with continued productivity improvement'. The capital investment programme includes 350 km of new rail, another 225 km of rerailing, and 1·2 million sleepers. CP plans to replace 150 turnouts and eliminate 23 000 rail joints. In terms of structures, the railway expects to take forward 70 bridge projects as well as replacing or rebuilding 170 culverts. It will also continue to invest in the rollout of PTC on its US routes.