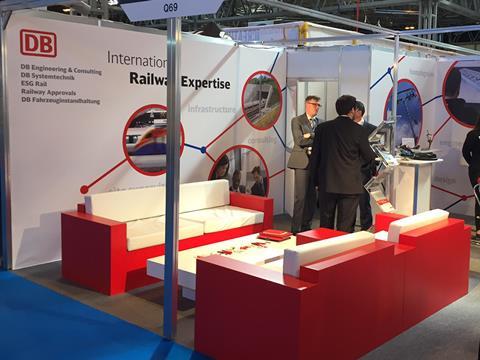 UK: Deutsche Bahn launched an integrated engineering and consultancy service for the UK rail industry at the Railtex 2017 trade fair.
The combined portfolio brings together the rolling stock expertise of DB Systemtechnik and DB's established UK technical consultancy ESG Rail with the infrastructure and operating knowledge of DB Engineering & Consulting.
At present the three businesses will retain their existing identities, but the longer term intention is to move to single brand.
'We believe the UK to be an important market for us and think that our global experience in the fields of rolling stock engineering, high speed, infrastructure and light rail will bring many benefits to this market', said Christoph Kirschinger, DB Systemtechnik's General Manager Sales. 'DB Systemtechnik, ESG Rail and DB Engineering & Consulting will bring a depth of expertise and knowledge to the industry that will help us to become a key player and the largest specialist rail consultancy in the UK.'