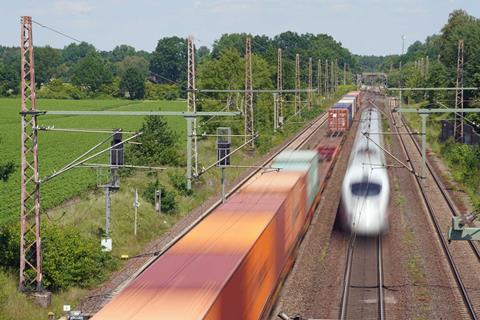 GERMANY: In the six months to June 30 2023 Deutsche Bahn carried 990∙2 million passengers, a 7∙9% increase over the first half year in 2022. Passenger-km totalled 41 196 million, up by over 13% from 36 431 million in January to June 2022.
At 15∙4%, the rise in long-distance traffic at DB Fernverkehr was particularly marked, reaching 68∙2 million passengers and 21∙7 billion passenger-km, despite a further fall in punctuality from 69∙6% to 68∙2%. The punctuality figure for all passenger services was 91∙8%, slightly worse than the year before when the figure was 92∙5%.
The increase in passenger traffic stems partly from the introduction on May 1 2023 of the Deutschland-Ticket, priced at €49 for a month's travel on short-distance and regional trains. In May and June as many as 11 million of these passes were sold, helping to achieve a 30% increase in traffic at DB Regio in June 2023 alone.
A relatively weak six months in the German economy contributed to tonnes carried by DB's freight business falling by 10% to 103∙5 million, the drop in tonne-km being 11∙2% at 38 644 million.
Industries with high energy costs were particularly affected, with chemicals, steel and paper traffic showing a negative trend. The fall was partly compensated by increases in coal and oil movements, with transport of new cars also increasing.
DB Cargo recorded a further loss, which DB attributed partly to much higher electricity prices. Adjusted EBIT was €-195m.
In financial terms, DB Group generated an adjusted EBIT of €331m in the first half of 2023, but the operating profit was €500m less than the year before. Logistics subsidiary DB Schenker generated an operating profit of €626m in the first six months of 2023.
Chairman of the Management Board Dr Richard Lutz viewed the figures as positive overall, suggesting that 'we aren't even close to tapping the full potential for demand'. This was 'good news for DB and for the climate', he said, adding that 'the support for rail shows us that continuing to invest in more climate-friendly rail transport is crucial, even in challenging times. At the same time, we are committed to increasing our profitability.'
Net capital expenditure from DB's own funds increased by more than 13% to a record figure of €3∙1bn in the half year, with investment focused on infrastructure and 'much more on maintenance', according to Chief Financial Officer Dr Levin Holle.
DB Group expects high interest rates, inflation and lower global freight rates to translate into 'a significant operating loss for the full year', the anticipated figure being slightly less than €1bn.