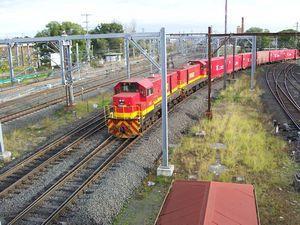 AUSTRALIA: Intended as an improvement on curtain-sided designs, the Supalite container has been developed by Adelaide-based SCF Group. The container has moulded plastic bi-folded doors that are intended to save weight whilst retaining structural strength.
Freight forwarder Toll Group expects to trial Supalite on an intermodal flow in August. The design is especially suited to the movement of palletised goods because the folding doors give access to the full length of the 40 ft bodyshell. Supalite has a tare weight of 6·3 tonnes compared to 9·3 tonnes for a standard container, the manufacturer says.
SCF also claims that the plastic doors give the body the same structural strength rating as a conventional solid-sided container. SCF hopes to trial the design in Europe later this year.