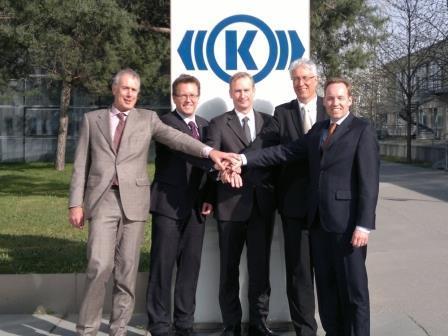 GERMANY: Fire protection specialist Fogtec Rail Systems and international braking supplier Knorr-Bremse Systeme für Schienenfahrzeuge announced on May 13 that they had signed an agreement for strategic co-operation in the field of safety-critical products and services for rail vehicles.
'In future, Fogtec will be able to make use of Knorr-Bremse's well-established global sales and service network. At the same time, we are adding a highly-relevant safety product to our own portfolio', explained Knorr-Bremse Board Member Rolf Härdi.
As a first step, the agreement envisages collaboration for the joint provision of services, and on specific projects where collaboration offers advantages for their customers. One of the first joint projects covers the supply of fire detection and extinguishing systems for Brazilian urban rail vehicles; here the Fogtec equipment will be assembled at Knorr-Bremse's production facility in Brazil for local installation.
Another initiative will see Knorr-Bremse Asia Pacific taking over commissioning services for Fogtec in the Japanese market.
'By drawing on each other's existing strengths and using potential future synergies we will be able to generate significant added value for our customers', said Fogtec General Manager Roger Dirksmeier.