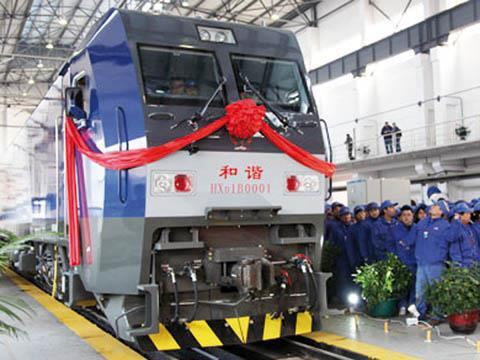 CHINA: The Ministry of Railways' Chengdu Railway Administration has placed an 8·6bn yuan order with China South for 590 six -axle 7·2 MW electric locomotives with AC drives. They will be built by CSR Zhuzhou (420) and CSR Ziyang (170) for delivery within 12 months.
CSR has now won four orders to supply a total of 1 710 HXD1 'Harmony' electric locomotives. Production capacity has been increased to 800 locomotives a year, which CSR says makes it the world's largest electric locomotive manufacturer.
CSR offers HXD1 locomotives in 9·6 MW twin-unit Bo-Bo and 9·6 MW and 7·2 MW single-unit Co-Co designs. The design has won a 50% share of domestic orders since the first of the six-axle 7·2 MW versions was completed in 2009.
The design was originally developed with Siemens, but CSR says the locomotives now have 92% local content.