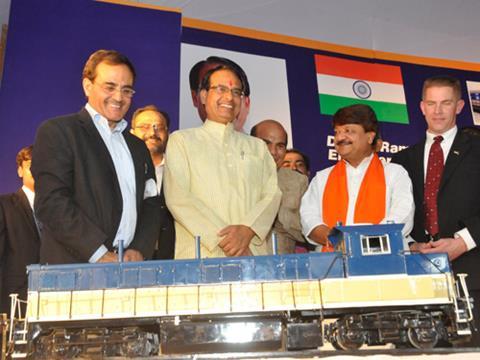 INDIA: The foundation stone for a locomotive factory on a 50 acre site at Sherpur in Sehore district was laid by the Chief Minister of Madhya Pradesh state, Shivraj Singh Chauhan, on October 27.
The factory is being developed at a cost of Rs2bn by Daulat Ram NREC Locomotives, a joint venture of Daulat Ram Engineering Services, which manufactures rolling stock components including traction motors, alternators and HVAC, and US-based locomotive remanufacturer National Railway Equipment Co.
The plant will produce locomotives from NREC's N-ViroMotive family. Instead of a single large prime mover, these genset designs feature several small diesel engines with electronically-controlled load sharing. According to the joint venture, genset locomotives offer emissions up to 80% lower and fuel consumption between 35% and 60% lower than conventional diesel locomotives.
DRNRECL has won initial orders to supply locomotives to Indian Railways and the Chennai metro. The first two are being produced in conjunction with IR's Diesel Loco Modernisation Works in Patiala, where they are expected to be rolled out in January. Five more locomotives will follow over a period of 18 months, and the joint venture envisages production capacity of 200 locomotives/year within five years.
Private operators are also seen as a key market by DRNRECL, which says there is currently no private-sector manufacturer in India able to offer such energy-efficient diesel locomotives.