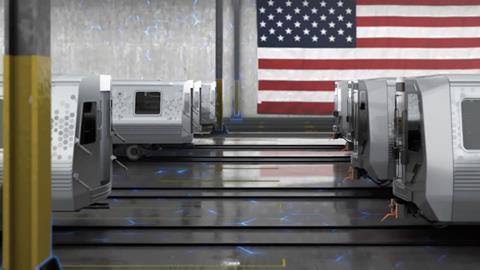 USA: Hitachi Rail has announced that it is to build a $70m rolling stock assembly factory on a 16·5 ha site near the Hopewell Valley industrial park west of Hagerstown, Maryland.
Located at a major logistics hub, the factory will cover an area of more than 28 500 m2 and will include a 750 m long test track. It will employ up to 460 people and is expected to sustain 1 300 direct and indirect jobs in the region.
Hitachi Rail says the new factory will initially produce the 8000 Series metro fleet for the Washington Metropolitan Area Transit Authority under a contract worth up to $2·2bn that was announced in March 2021. The initial order is for 256 cars, with options for 800 more. The factory will eventually serve the wider North American main line and urban rail market, acting as a central manufacturing hub for Hitachi Rail's business in the Americas.
After levelling and preparing the site over the next few months, Hitachi says construction should begin in the autumn, for completion in early 2024.
Once the plant is fully operational, Hitachi says it will be able to produce up to 20 vehicles per month on a single shift and will have the capability to build a wide variety of rolling stock from trams and metro cars to inter-city and high speed trainsets.
Hitachi Rail already operates one rolling stock assembly plant in the US, located in Miami, where it is currently producing 78 trainsets for Baltimore's sole metro line and carrying out modifications on the driverless trains being supplied to the starter metro in Honolulu. This facility is expected to remain open for the medium term, the company told Railway Gazette.
Overall, Hitachi has 12 rail sites in the USA, and this footprint 'is due to extend dramatically with the acquisition of Thales Ground Transport Solutions in early 2023', it added. 'Today's announcement is a major commitment on behalf of the company to serving the North American market.'