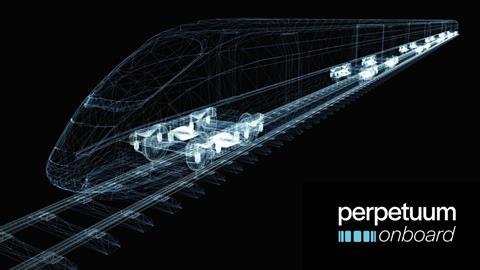 UK: Hitachi Rail Ltd has agreed to acquire Southampton-based condition monitoring specialist Perpetuum as part of a strategy to strengthen the use of digital technology in rail operations.
Established as a university spin-off less than a decade ago, Perpetuum developed the use of bogie-mounted self-powered vibration sensors to monitor the condition of rolling stock. Wireless equipment fitted to around 3 000 vehicles operating across three continents sends back real-time data about the performance of wheelsets, gearboxes, motors and bogies.
This information can be combined with AI-led analytical tools to identify potential faults, allowing them to be addressed before any failure can impact on train operations. This reduces the need for maintenance and cuts cost, while extending the average life of critical components before replacement by more than 25%.
The acquisition announced on August 10 is intended to support the Hitachi group strategy of 'investing in digital and data-driven ways to solve complex customer challenges' using its Lumada platform. Hitachi Rail envisages that applications of the Perpetuum technology could be extended beyond wheelsets and bogies 'to provide actionable information wherever it is generated on the train'. It plans to fit sensors to a wide variety of rolling stock, ranging from high speed to metro and freight, as part of an integrated service and maintenance package.
The value of the 100% acquisition was not disclosed. Subject to approval by the relevant competition authorities, the deal is expected to close in the autumn of 2020. The Perpetuum brand is expected to be retained, and all 73 staff will become part of Hitachi's global railway business, which now totals more than 12 000 employees across 38 countries.
'The inclusion of one of the most exciting, pioneering companies in digital asset management is an exciting development for our global mobility business', said Hitachi Rail Group CEO Andy Barr. 'Perpetuum's data-driven insights will offer further improvements to the service we provide to our customers. This acquisition also supports Hitachi's growth in the digital technologies space, which is becoming increasingly key to our offering.'
'Being part of Hitachi will present vital opportunities that only a global transport giant can offer', added Perpetuum CEO Steve Turley. 'We are very excited to launch this next stage for Perpetuum after the success it has had since entering the railway market less than 10 years ago, and we look forward to better supporting our existing and new customers in the future.'