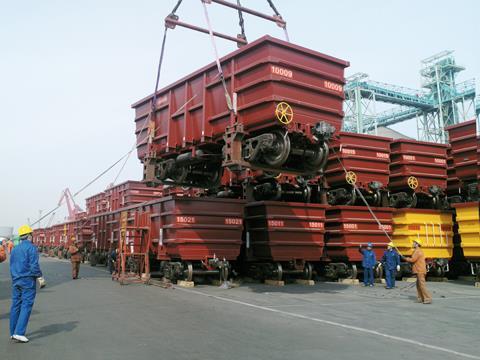 A further step in the privatisation of businesses owned by Polish railway holding company PKP SA has been taken with the 225m złoty sale of rail infrastructure contractor Przedsiebiorstwo Napraw Infrastruktury to road and infrastructure development company Budimex.
Having installed overhead electrification on the Al Mashaaer Al Mugadassah metro in Makkah, SRS Rail System International and Siemens Mobility have signed a framework agreement to co-operate on future projects.
CH2M Hill has completed the acquisition of Booz Allen Hamilton's transport consulting business with around 150 employees.
UAE-based Advance Rail Group and Saudi Arabia's Al Rashid Trading & Contracting have formed a partnership to bid for railway construction work in Saudi Arabia.
JPM Parry & Associates has announced a UK government grant of £247 500 towards the £355 500 needed to build a prototype larger version of its Parry People Mover railcar.
Locon Service has held a topping-out ceremony for its 1600 m² locomotive and wagon repair facility, which is being built on the site of a small workshop at Pinnow in Brandenburg, Germany, by contractor Berger Bau Berlin.
Hitachi has signed a partnership agreement with local firm Iesa to produce metro and suburban rolling stock in São Paulo.
Telent has agreed to purchase Amey's 40% stake in the Enhance joint venture which provides communications maintenance and upgrade services to London Underground's Tube Lines business under a 13-year contract from 2005.
German power convertor manufacturer SMA is setting up local sales and support subsidiaries in Hong Kong and São Paulo.
Russian Rail Consultancy was relaunched in August. Set up to provide strategy, marketing and public relations services to companies in the CIS rail sector, it suspended activities for a year while founder Ulugbek Khodzhaev had conflicts of interest with other work.