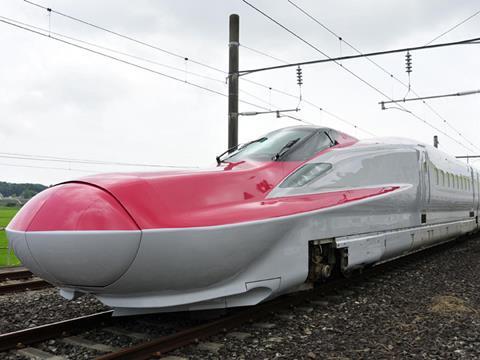 JAPAN: East Japan Railway has awarded Knorr-Bremse a contract to supply braking systems for the 23 Series E6 high speed trainsets which are scheduled to enter service between Tokyo and Akita in early 2013.
The 'major order' announced by Knorr-Bremse on April 26 includes brake discs, pads and compact lightweight callipers for motor bogies. The company has previously supplied braking systems for Series E5 trainsets and four prototype E6 cars.
'This commission shows that the systems delivered for the previous generation, the E5, lived up to the operator's high expectations', said Dr Dieter Wilhelm, executive board member responsible for Knorr-Bremse's Rail Vehicles Systems division.
The tilting Series E6 trainsets will initially run at up to 300 km/h on high speed infrastructure, with an increase to 320 km/h planned for March 2014. Speeds will be lower on the mini-Shinkansen section of upgraded conventional route between Morioka and Akita.