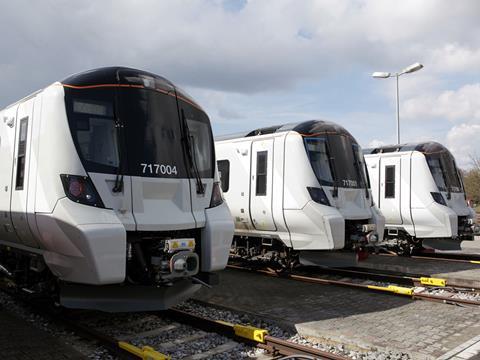 EUROPE: Rock Rail and Aberdeen Standard Investments have announced a joint venture to target the rolling stock leasing market in continental Europe and Scandinavia.
They hope to build on experience gained through the financing of three train fleets in the UK, where they said they had generated a new source of funding by enabling pension funds and insurance companies to invest in rolling stock.
The companies believe that although many European rail networks are state-owned and operated, there is a 'definite move' towards more competition in the purchase, funding and operation of rolling stock. However, national differences in regulation, competition, fleet ages and technical standards means 'one size will not fit all' markets.
'We have big ambitions in Europe', said Rock Rail CEO Mark Swindell on September 13. 'We aim to deliver enhanced value to both the public sector and passengers, bringing in new direct long term investment from the institutional sector, which has investment time frames, liabilities and return requirements that are closely aligned to rolling stock as an asset class.'
ASI is to provide funding from its infrastructure equity funds. 'Extending our partnership with Rock Rail will allow us to continue our journey in the rail industry, and access a much wider opportunity set within Europe for our infrastructure funds and clients', said Dominic Helmsley, Head of Economic Infrastructure at ASI. 'For pension funds and insurance companies invested in our infrastructure funds, this fits with our strategy to invest in core assets which aim to provide long-term stable returns.'
Rock Rail and ASI entered the rail market in the UK in February 2016 with the financing of a £300m fleet of Siemens Desiro City Class 717 EMUs for Govia Thameslink Railway. Aviva Investors was exclusive debt funder in a deal which Rock Rail said was the first time that rolling stock had been financed by direct long-term investment by pension funds and insurance companies.
In October 2016 Rock Rail and ASI financed a £700m Stadler Flirt UK fleet for Greater Anglia, working with the GLIL Infrastructure consortium of local authority pension funds and institutional funders Aviva Investors, Barings, Legal & General Investment Management, Standard Life Investments and Sun Life Assurance as well as the European Investment Bank.
In 2017 the partnership agreed a £1bn contract to finance 90 Bombardier Transportation Aventra EMUs for South Western Railway. Rock Rail, ASI and GLIL provided the equity, whilst debt was provided by nine institutional investors from Europe and North America, including MEAG, Rothesay Life and Scottish Widows.