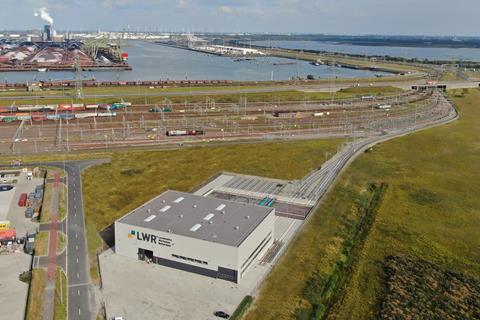 NETHERLANDS: The Locomotive Workshop Rotterdam maintenance depot in the port's Maasvlakte 2 area was offically inaugurated on November 26.
It has been developed by a joint venture of manufacturer Siemens Mobility and leasing company Mitsui Rail Capital Europe, and will undertake preventive and corrective maintenance, inspection and enhancement of all kinds of electric locomotives owned by MRCE as well as third parties.
It has six maintenance roads and eight stabling sidings served by a traverser. Sections of overhead electrification can be energised at all common European traction supply voltages, helping to meet the increasing demand for the maintenance of complex cross-border locomotives. Roof-mounted solar panels meet 50% of the site's energy requirements.
'As a young company in a relatively conservative sector, we do things just that little bit differently', said LWR director Olaf Kuijper. He said LWR 'took a good look at people's knowledge and know-how when putting together the team', selecting not just rail specialists, but also people with a background in commissioning and even former Apache helicopter mechanics. 'They operate with military precision and a high level of safety awareness, which is just as relevant on railways', Kuijper said.