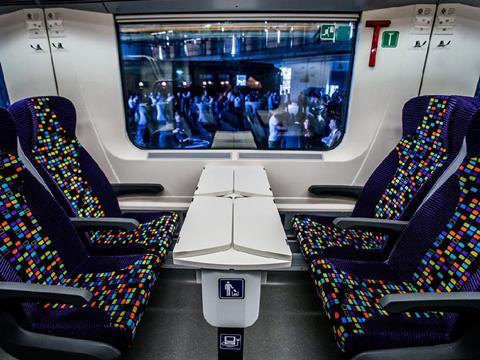 HUNGARY: National railway holding group MÁV has started series production of locally designed inter-city coaches for international services.

The Hungarian government decided in April 2016 that it would provide financial assistance for MÁV to manufacture 20 hauled passenger coaches for international traffic plus a further 100 for domestic use. The vehicles are branded IC+ and are to be assembled at MÁV's Szolnok workshops.

The 20 IC+ vehicles being supplied for international traffic will be suitable for operation up to 200 km/h and will include domestic content of at least 50%. Half the cars will be second class saloons and the others multi-function vehicles; all will feature USB ports and power sockets. Two prototype coaches were produced in 2014-15 to ensure compliance with EU Technical Specifications for Interoperability; these are currently being trialled on Budapest – Praha – Berlin trains. The first of the series-built cars is expected to enter service in early 2018 with all 20 in traffic by the end of the year.

From mid-2018, MÁV will begin producing the domestic coaches; these will be designed for operation at up to 160 km/h. The company also intends to ramp up its ongoing fleet refurbishment programme, which so far has seen more than 500 coaches modernised. Future priorities include overhaul and refitting of 40 Metrowagonmash DMUs and 30 of its fleet of more than 200 Bzmot diesel railcars.