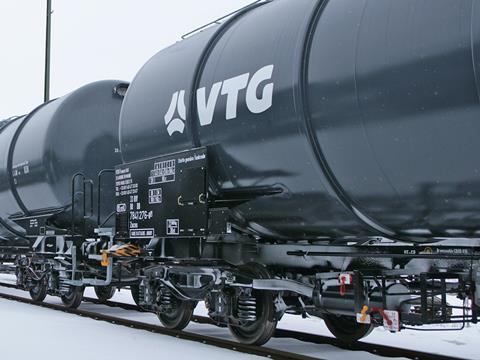 VTG: On July 16 the Warwick Holding subsidiary of funds advised by Morgan Stanley Infrastructure Inc announced a voluntary public tender offer of €53 per share in cash for all outstanding shares in wagon leasing and logistics company VTG AG.
Warwick Holding acquired a 29% stake in Hamburg-based VTG in October 2016, and said Morgan Stanley Infrastructure Partners had been 'actively supporting' growth initiatives. Kühne Holding AG has signed an irrevocable undertaking to tender its 20% stake in VTG, enabling Warwick Holding to secure at least 49% of the total number of shares.
The transaction is subject to regulatory clearance, and the previously-announced acquisition of CIT Rail Holdings (Europe)'s NACCO business by VTG AG.
'We are impressed by the success story of VTG AG and we firmly believe in the further potential of the company', said Dr Markus Hottenrott, Chief Investment Officer of Morgan Stanley Infrastructure Partners. 'We have friendly intentions and believe that with our global expertise in infrastructure, we are an excellent partner to support the future growth of VTG AG through constructive collaboration with all stakeholders.'
Responding to announcement, VTG said it believed the Warwick Holding offer 'does not reflect the fundamental value of VTG AG considering its future potential', and the 4% premium on the volume-weighted three-month average share price 'does not contain an adequate control premium'.
'As soon as we have received the offer document, we will examine in detail whether it is in the interest of the company, our employees and shareholders', said CEO Dr Heiko Fischer. 'From today's perspective of the executive board, the announced offer price of €53 does not adequately reflect the potential of the company and is therefore not appropriate.'