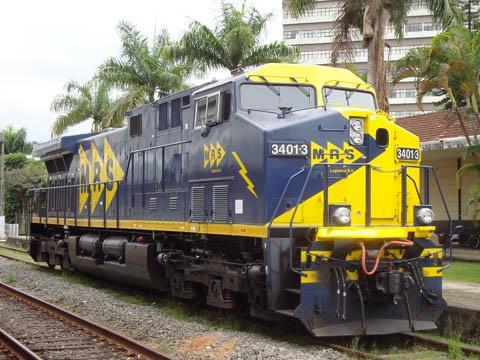 BRAZIL: MRS Logística has awarded a US$165m contract for the design and installation of communications-based train control across its 1 674 route-km network by the end of 2013.
Operating in the states of Rio de Janeiro, Minas Gerais and São Paulo, the railway handles substantial flows of iron ore, steel and cement, reporting a 12% increase in traffic to more than 140 million tonnes in 2010.
The company began work in 2006 on the development of its own Integrated Operations Automation & Control System (SIACO), in conjunction with Alstom, EADS and Accenture-Atan. Using many common elements with ETCS Level 2, this was intstalled on a 35 km pilot line between Pombal and Guaíba in early 2009. At that stage the intention was that SIACO would be rolled out across the entire network before the end of 2010.
Under the contract announced on March 2, Wabtec's recently-acquired signal engineering subsidiary Xorail will provide turnkey project management, design and install signalling, communications and train dispatching equipment; and fit on-board electronics to 500 locomotives and 50 auxiliary vehicles.
MRS chief executive Eduardo Parente said 'this major investment will improve the safety of our operations and is an essential part of meeting increased demand. Ours is a highly complex network due to the density of the track and geography of the region, which we believe makes this train control project a first for freight rail operations around the world. After a lengthy bidding process, we are convinced that Xorail is uniquely positioned to deliver a solution.'
Wabtec President & CEO Albert J Neupaver described Xorail's entry into the Brazilian train control market as 'a significant expansion of Wabtec's presence in the region'. The company opened a service centre at MRS Logistica's Belo Horizonte maintenance shop in 2009 to provide aftermarket services, and recently acquired Brazilian brake component supplier Adantech.