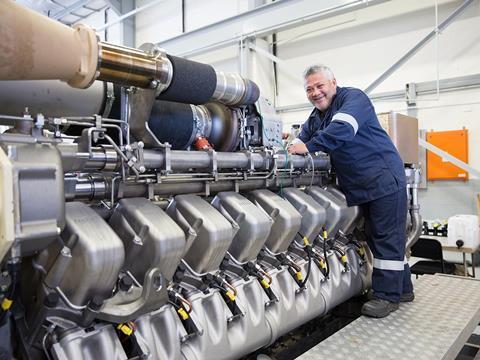 SOUTH AFRICA: A ceremony on October 27 marked the inauguration of MTU's redesigned plant in Cape Town following a €3m modernisation designed to enable the Rolls Royce business to localise diesel engine manufacturing.
The plant will be used to assemble, test and commission around 200 of the 232 Series 4000 R63L engines which MTU is supplying to CRRC for installation in Class 45 locomotives being built for Transnet Freight Rail.
MTU is also planning further projects with Transnet. 'Africa is an extremely interesting market for us and one in which we see enormous growth potential', said Bernd Krüper, Vice-President Industrial Business at MTU. 'We regard the upgrading of our facility in Cape Town as an important strategic step towards deepening our partnership with customers in Africa.'
The modernisation project included the installation of paint booths for use with more environmentally-friendly paints, upgrading the test bench, assembly and logistics areas and the installation of new overhead cranes. A training centre has also been set up, and staff travelled to MTU's head office at Friedrichshafen in Germany for skills transfer courses lasting up to two months.