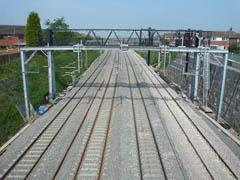 UK: Infrastructure manager Network Rail announced on October 1 that it had purchased the assets of IAD Rail Systems from Claverham Ltd.
IAD designs and manufactures point-operating equipment including the High-Performance Switch Actuator and Powerlink backdrive which are 'used throughout Network Rail's infrastructure', according to NR.
The transaction includes transfer of all IAD staff, who now join NR's National Delivery Service. They will continue to be based at Claverham near Bristol pending a move to new premises in the same area.
'The purchase of IAD Rail Systems will enable Network Rail to continue to develop IAD's products to achieve the highest levels of reliability, availability, maintainability and safety', said NDS Director Martin Elwood.