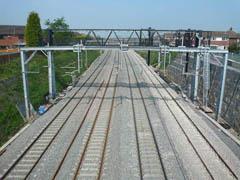 UK: Infrastructure manager Network Rail has launched Network Rail Consulting to provide services outside the UK including strategic planning and advice on asset management, operations, maintenance and major projects.
Announcing the launch of NRC on July 9, Network Rail said it intends to form strategic alliances with CH2M Hill and Atkins to focus on countries with 'large, aging rail infrastructure in need of modernisation', such as India and the USA.
Network Rail also expects opportunities to work as a sub-consultant to other partners in markets including Brazil, northern Europe, the Middle East, the Far East and Australia.
'Our vision is to be a world-class independent British-based infrastructure group that is internationally respected for providing rail services and solutions that deliver outstanding value', said Network Rail Chief Executive David Higgins. 'Network Rail has the depth and breadth of rail experience and knowledge to promote British expertise overseas and become a valuable international ambassador for our rail industry and for UK plc.'