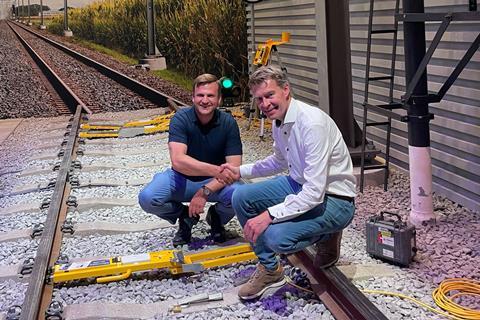 NETHERLANDS: Dutch technology specialist Dual Inventive and Plasser & Theurer have signed a co-operation agreement with a view to developing tools and processes aimed at improving track worker safety.
The partners are aiming to increase the output of on-track plant, with a specific focus on minimising the time needed to begin and end engineering possessions. On June 23, Plasser & Theurer CEO Johannes Max-Theurer and Innovation Director Florian Auer visited Dual Inventive's head office in Oisterwijk, where a ZKL3000 digital track protection tool was handed over by the Dutch company for installation in a Plasser tamping machine. The ZKL3000 is a self-monitoring track circuit operating device, already approved for use by multiple infrastructure managers around the world. The device protects a section of track upon installation between the running rails by simulating track occupancy in the section.
The signing of agreement will see improved collaboration and knowledge sharing between the two organisations, with them initially working to equip every new Plasser & Theurer machine operating in a track circuited area with two ZKL3000 devices for protection of the adjacent line. The collaboration will in the future also focus on track workers' safety equipment, with the aim of eventually having track worker safety systems integrated directly into track machines using a SIL4-compliant Machine Warning System. According to Dual Inventive, direct communication between the track machine and the interlocking would improve safety and increase the output from possessions.
'Plasser & Theurer cares about the safety of operators. By implementing Dual Inventive's safety devices, Plasser & Theurer wishes to remove people from a position of danger and put them in control of their own safety', said Auer. 'By applying the newest technologies in track machines, we accelerate robotisation and efficiency in the railway sector together. The extra hours we gain in organising a possession can be used to enable more trains to run, or to allow more work to be undertaken each shift.'