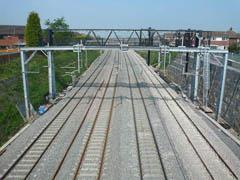 Erico has developed a Positive Train Control grounding kit, containing rods, clamps, welding material, moulds, and cable for protecting PTC signalling towers from lightning strikes.
The first screens showing 20 min blocks of news, 'what's on', and advertising material went live on 18 København S-Tog trains on June 14, with the rest of the fleet to follow within a year. They are operated by DR Update & Commute Media, which also provides free onboard internet access.
Transport for London is making available feeds of live data for the independent development of commercial information applications covering London Underground services.
Alpha Wires low-smoke, zero-halogen communication and control cable available from Aerco offers corrosion resistant, tinned copper conductors and stranded conductors for installation flexibility. It is available in multipair and multiconductor configurations and foil-shielded for EMI protection and improved signal integrity.
GDS Displays now offers a 38 inch LCD for outdoor applications such as next train indicators. An ambient light sensor continuously adjusts brightness for comfortable viewing, and optical bonding of vandal-proof glass directly to the LCD eliminates back-of-glass reflection and condensation.