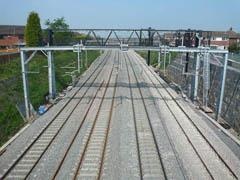 Thales UK has launched an application for the Android smartphone operating system providing access to the online journey planner and live departure board services offered by National Rail Enquiries. The Rail Planner Live app includes a 'Get me Home' function to select the most direct route available, and a Nearest Station feature using GPS location data and mapping software. Rail Planner Live will be made available for other smartphone platforms later this year.
MTM Power GmbH has introduced a range of DC/DC converters for railway and tram applications in the 150 W to 250 W range. The HVC converters are intended to allow turnouts, signal lamps and other lineside equipment to be fed from a 600 V or 750 V traction supply. Onboard applications include the provision of low-voltage supplies to restart a vehicle with a fully-discharged battery.
India's North Eastern Railway has introduced three solar-powered ticket issuing terminals at Khalilabad station on the Gorakhpur - Lucknow line. This is the first station to use solar power, although NER has already converted 317 level crossings to use renewable energy.
Schaeffler Group subsidiary INA is supplying roller bearings and related components for use in the braking system of the Series E5 trainsets that will enter service on the Tohoku Shinkansen later this year. As part of a high-performance braking system developed by Knorr-Bremse, the axle-mounted callipers are fitted with drawn cup needle roller bearings. These are protected against corrosion using an extremely thin surface coating which does not contain chromium IV, helping to improve the sealing and service life of the bearings.
Austrian lifting equipment specialist Auto­lift GmbH has developed a lightweight mobile buffer jack for use by ÖBB. Powered by a 230 V single-phase motor, the spindle jack is fitted with large wheels for good manoeuvrability, allowing one person to change freight wagon buffers single-handed both in a workshop and in the field.
Greater Cleveland RTA has installed 320 m of Star Track concrete panels from Oldcastle Precast to renew four level crossings on its light rail network, totalling 99 standard elements and 16 tapered approach slabs. Each precast element has a patterned surface to improve adhesion for road vehicles. Installation was undertaken by RailWorks Track Services of Youngstown under a project funded by the American Recovery & Reinvestment Act.