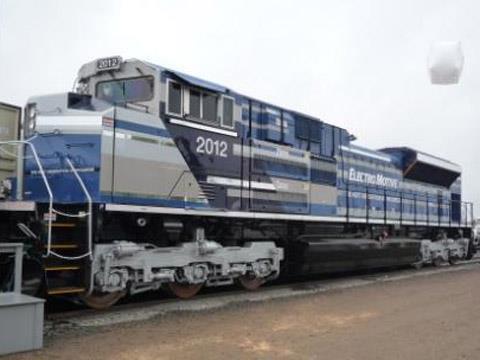 CANADA: Caterpillar subsidiary Progress Rail announced on February 3 that it was closing the Electro-Motive Diesel locomotive assembly plant at London, Ontario, with immediate effect. Approximately 450 employees represented by the Canadian Auto Workers union will be affected, along with non-union management grades.
Staff at Electro-Motive Canada had been locked out since January 1 in an increasingly bitter dispute over pay and conditions. According to the company, 'all facilities within EMC, EMD and Progress Rail Services must achieve competitive costs, quality and operating flexibility to compete and win in the global marketplace.
'The collective agreement and cost structure of the London operation did not position EMC to be flexible and cost-competitive in the global marketplace, placing the plant at a competitive disadvantage. While the company's final offer addressed those competitive disadvantages, the gulf between the company and the union was too wide to resolve and as such, market conditions dictate that the company take this step.'
Assembly of locomotives will be shifted from the London facility to the company's other assembly plants in North and South America, 'which will ensure that delivery schedules are not impacted by the closing of the London facility'.
Much of the work is expected to transfer to Progress Rail's recently opened US assembly plant at Muncie, Indiana. Some work is likely to move to Sahagún in Mexico, where Bombardier has been assembling locomotives under contract to EMD for several years.