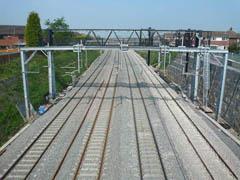 UK: Balfour Beatty Rail announced an agreement to sell its manganese steel casting, track panel, turnout and crossing design and manufacturing business to the Progress Rail Services subsidiary of Caterpillar Inc on April 15. The transaction will be completed in May.

The business operates from five sites in the UK, and generated revenue of £55m in 2010 with gross assets of £43m. Balfour Beatty said it was selling because changes in its clients' procurement models had eliminated 'the competitive advantage of owning manufacturing capability'. However, the company 'remains committed to its core business as a global, fixed-rail infrastructure contractor'.
'In Progress Rail, we have found an industry partner who will develop the UK switching and crossing business further and will integrate it into their worldwide manufacturing programme', said Manfred Leger, CEO of Balfour Beatty Rail. 'I am looking forward to working with Progress Rail as a strong supply chain partner for our global rail infrastructure contracting activities.'
'The acquisition of Balfour Beatty's trackwork manufacturing business will allow us to significantly broaden our trackwork operations', said Dave Roeder, Progress Rail Senior Vice-President of Engineering & Track Services.