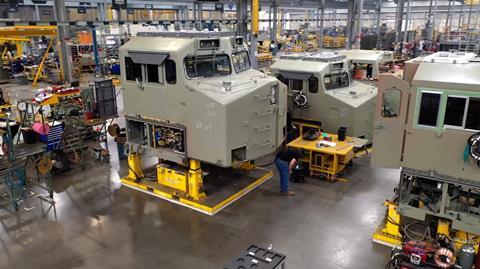 USA: Locomotive manufacturer Progress Rail has initiated legal action against competitor Wabtec, alleging monopolistic conduct. Progress Rail is seeking damages, and wants Wabtec to divest the rail business acquired from GE Transportation.
The lawsuit filed in a federal court in Delaware on September 6 alleges that Wabtec breached agreements put in place as part of the 2019 acquisition of the GE Transportation business.
Progress Rail is a competitor of Wabtec, but also purchases its Positive Train Control and Energy Management Systems which are dominant in the US market.
As part of the acquisition, a Joint Development, Compatibility, Interchangeability & License Agreement was reached running to 2034.
Progress Rail now alleges Wabtec has breached the agreement by 'refusing to collaborate or otherwise work together to allow Trip Optimizer to run on Progress Rail locomotives and frustrating the integration of its onboard PTC system'.
Progress Rail also alleges a 2020 agreement covering the Interoperable Electronic Train Management System has been broken, saying Wabtec has failed 'to timely deliver any changes, updates and modifications to the onboard PTC system'.
Progress Rail also says a Wabtec executive told a Goldman Sachs Industrials Conference on May 9 that Progress Rail is exiting the US market for long-haul locos meeting Environmental Protection Agency Tier IV emissions standards; Progress Rail says this is not the case.
Response
In response, Wabtec issued a statement of September 11 saying it believes the complaint 'at its core is an unsupported attack on the merger of Wabtec and GE Transportation, which was completed over four years ago'.
Wabtec said 'Progress Rail actively participated in the US government's review of that transaction and benefitted by entering into agreements with Wabtec that transferred Wabtec technology to it as part of the United States Department of Justice and global merger clearance process.
'We also firmly believe that Progress Rail's assertions that Wabtec breached agreements or engaged in other illegal conduct are wrong. We intend to aggressively defend the case in court.'