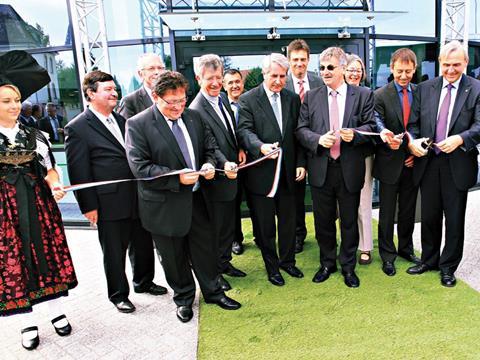 Vossloh-Cogifer has opened a €3m track component R&D, customer service and training centre in Reichshoffen. It brings together work which was previously split between two sites, and includes a metallurgical laboratory with two fatigue and endurance test benches.
Polish manufacturer KZN Biezanów and Spanish company Talleres Alegria have formed a joint venture to supply turnouts for high speed lines.
Droege International Group has injected fresh capital to take a majority stake in fare collection specialist Höft & Wessel.
Russian Railways subsidiary RZDstroy and Rhomberg Sersa Rail Group have agreed to form a joint venture to provide expertise in tunnel modernisation and slab track applications.
Vossloh Fastening Systems and local partner Dorplast Invest have opened a resilient rail fastening plant in Kapshagay, Kazakhstan. It has 50 local staff and a capacity of 1 million fastenings/year for the 1520 region.
Westermo Group has created a dedicated train networks division. Global sales and support will be led by a core team at Västerås in Sweden headed by Erik Danielsson, previously Group Vice-President, Industry Segment Business, at ABB Control Technologies.
Stella-Jones has agreed to acquire sleeper and utility pole manufacturers Arizona Pacific Wood Preserving, Nevada Wood Preserving and Pacific Wood Preserving of Oregon for $33m plus working capital of around $24m.
On October 11 Alstom CEO Patrick Kron laid the foundation stone for the Silky building in the Carré de Soie district of Villeurbanne, which will house Alstom Transport's entire railway electronics business by 2015. Bringing together around 1 000 staff from five separate sites, the 36 600 m² building being developed by DCB International will contain office space, manufacturing workshops, a logistics hall, test laboratories and a showroom.