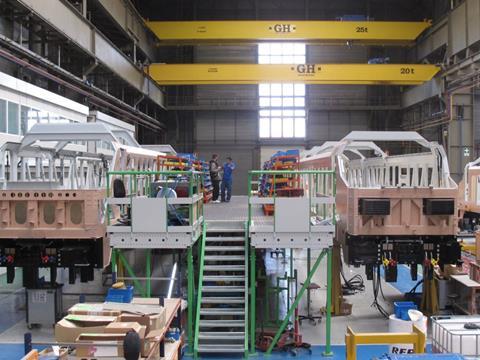 Presenting its financial results for the first nine months of 2015 on October 29, Vossloh AG announced than it was treating its Vossloh Rail Vehicles unit in Valencia as a discontinued operation with effect from September 30. Talks with parties interested in buying the Rail Vehicles unit have been 'accelerated', and it is 'very likely' that the unit will be sold 'within the next months'. Vossloh expects that the Electrical Systems business unit in Düsseldorf and the Vossloh Locomotives business in Kiel will be divested by the end of 2017.
On October 30 Finmeccanica announced that it had 'positively completed' final assessment of the contractual conditions for the sale of AnsaldoBreda and its 40% stake in Ansaldo STS to Hitachi. A shareholder meeting is scheduled for November 2.
Announcing on October 29 a memorandum of understanding which would see the government of Québec invest US$1bn to take a 49·5% stake in a partnership covering its C Series aircraft programme, Bombardier Inc said plans to float a minority stake in the Transportation division were 'progressing well'. The company said 'the excellent outlook for the rail transportation sector has been acknowledged in preliminary conversations with potential investors', and it expected to make an announcement soon.
Pennsylvania Precision Cast Parts has expanded its range to include products for the rail market. 'The addition of railways as an industry specialisation reflects the growing number of components that we cast for both freight and passenger rail', said President & CEO Andrew Miller on October 21.
Alstom Transport has awarded telecoms group BT a contract to 'consolidate and optimise' its global ICT network infrastructure.