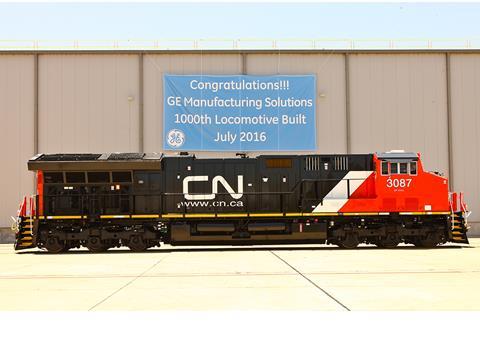 On July 7 GE Manufacturing Solutions celebrated the production of the 1 000th locomotive at its plant in Fort Worth, Texas, which opened in 2013. The Evolution Series Tier 4 loco will be delivered to CN.
On July 11 Bombardier Transportation and Ukrainian Railways signed a memorandum of understanding to explore the possibility of joint activities to modernise UZ's locomotive fleet. 'We are considering the possibility of co-operating with Bombardier in the joint production of electric locomotives in Ukraine', said Minister of Infrastructure Volodymyr Omelyan. 'We have agreed to establish a working group that will determine the main technical and economic parameters'.
Alstom recorded an 'exceptionally low level of orders' totalling €889m in Q1 from April 1 to June 30, down from €1·96bn from the same period last year. Organic sales were up 7% at €1·75bn, and the backlog of €29·7bn on June 30 represented more than four years of sales. 'The low level of orders does not reflect the commercial activity that has been very strong and should translate into orders in coming quarters', said Chairman & CEO Henri Poupart-Lafarge on July 13. 'The projects for the extension of the Dubai metro or for regional trains for Italy recently announced have not yet been booked.'
Germany's federal railway office EBA has recognised Siemens' Safety Assessment Centre in Braunschweig as an independent assessment body for signalling and control systems.
On July 7 Angel Trains Group announced an £80m private placement comprising £50m of junior debt and £30m of senior debt, secured from a single investor on a direct basis. The maturity is a weighted average of 7½ years for the junior debt and 15 years for the senior debt. The new financing will be used for general corporate purposes, including new portfolio investments. 'We are delighted to have introduced a further investor into our debt structure through a relationship-driven transaction', said CFO Alan Lowe. 'This represents a strategic and effective funding arrangement which will provide further liquidity to support new business.'
A new engine production facility at Sinara Transport Machines' Ural Diesel Engine Plant was formally opened on June 12.