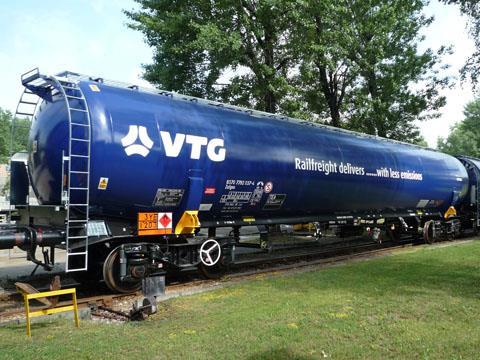 Leasing company VTG has launched a Mobile Revision service, where the inspection of wagons and pressure testing of tanks can be undertaken on a customer's site or loading facility rather than in workshops. 'Customers save time and costs and are able to plan the availability of their wagons much more efficiently', says Sven Wellbrock, Head of VTG Rail Europe.
Thales has installed ETCS Level 1 equipment to enhance testing and certification facilities at the Instytut Kolejnictwa test track at Żmigród in Poland.
International transport finance specialist DVB Bank SE has announced consolidated net income before taxes of €14·1m for the first six months of 2016, down from €75·7m in the same period the previous year. CEO & Chairman Ralf Bedranowsky said the Land Transport Finance business which finances rail vehicles 'continued to develop successfully', but the shipping sector was 'persistently difficult'.
RJ Corman Railroad Services has opened a site at Jacksonville in Florida which will provide customers including Florida East Coast Railway and CSX with sleeper replacement, bridge repair and track maintenance services.
Rolling stock and lineside electronics supplier MEN has joined UNIFE.