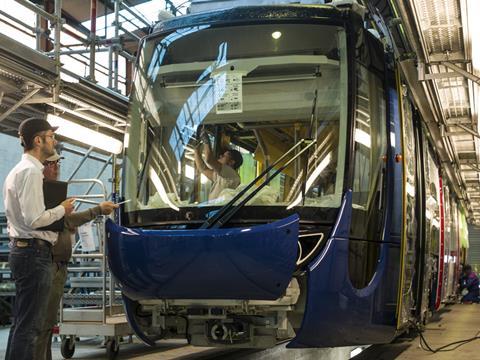 In the six months from April 1 to September 30 Alstom booked €6·2bn of orders leading to a new record-breaking backlog of €33·6bn. Sales were up 8% (7% organically) at €3·6bn and adjusted EBIT grew 20% to €200m, with an adjusted EBIT margin of 5·6%. Net income reached €128m and free cash flow was 'exceptionally high' at €333m. 'These results demonstrate the success of Alstom's strategy and allow us to confirm the 2020 objectives', said Chairman & CEO Henri Poupart-Lafarge.
Deutsche Bahn has established Deutsche Bahn Digital Venture to support digitisation projects and start-up companies, including the Clever Shuttle electric car-sharing service.
On November 9 a court in Genova rejected Elliott's request of a precautionary suspension of the shareholders' resolutions of May 13 for the appointment of the Ansaldo STS board and Alistair Dormer as Chairman. Ansaldo STS expressed 'satisfaction', saying the court's decision 'not only prevents the occurrence of a circumstance which would have seriously jeopardised the stability of the company and its business but also affirms that the Elliott claims have no grounds.'
More than 100 potential suppliers attended a vendors' day which Integral Coach Factory in Chennai hosted on November 9 to highlight additional supply needs arising from increased production.
On November 2 Harsco announced the closing of a new senior secured credit facility comprising a US$400m five-year revolving credit facility and a US$550m seven-year term loan B facility. The proceeds are to be used to redeem existing 5·75% senior notes due in 2018 and pay related transaction fees and expenses. 'This transaction was well over-subscribed and its completion is a significant financial milestone', said CFO Pete Minan. 'We've been keenly focused on reducing leverage, and today's announcement reflects the positive progress we have made over the past year.'