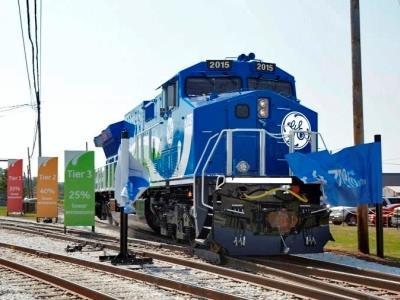 GE Transportation confirmed on December 8 that it had purchased Iders Incorporated, an electronics and technology specialist which supplies the GoLINC data processing and storage platform already used on many GE diesel locomotives. The acquisition is the latest step in a partnership that has seen the two companies work together for more than five years, GE said.

Consultancy firm Systra announced on December 7 that it had acquired Vetec, a Brazilian project engineering, supervision and management services company specialising in the transport sector. The acquisition complements Systra's purchase last year of Tectran, and means that it now has more than 400 employees in Brazil. Financial terms were not disclosed.

As the company seeks to increase its staff from 80 to around 200 by the end of 2018, CAF has relocated its UK team to a headquarters in the Voyager office development adjacent to the railway station at Manchester Airport. The move is intended to support CAF's increased presence in northern England, where it has contracts to supply new rolling stock to the Northern and TransPennine Express franchises.

Belkommunmash has joined the city of Novosibirsk in BKM-Siberia, a 50:50 joint venture that is to undertake local production of partially low-floor trams. BKM will produce fully-assembled AKSM62103 bodies which will ride on bogies supplied by operator Novosibirsk Gorelektrotrans, also responsible for final assembly. A total of 12 trams are to be produced in 2017 at cost of 204m roubles.

Trakcja PRKil of Poland has announced that it is to take full control of thermite welding and trackwork contractor Bahn Technick Wrocław, acquiring the 50% stake currently owned by Leonhard Weiss International GmbH.

Sociedad Boliviana de Cememto has brought into use a concrete sleeper production plant supplied by WEGH Group of Italy. It is able to produce 500 pre-stressed sleepers a day designed for Pandrol FD fastenings, which are being used to upgrade the Montero – Bulo Bulo route.