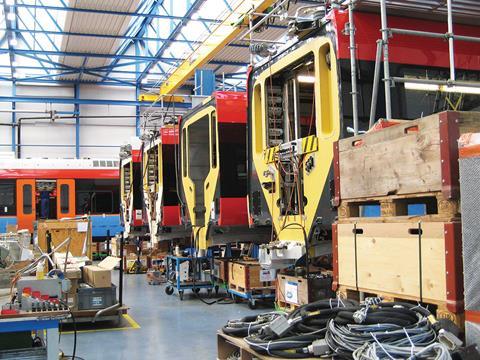 In an interview with Schweiz am Sonntag published on January 1, Stadler Rail owner and CEO Peter Spuhler said he was considering a return to Swiss politics and how to go about securing the long-term future of the company. This could include the sale of a stake in the business with his family retaining 35% to 40%. The newspaper reports that he is not keen to sell to a Chinese company.
The Uniwagon North America Corp subsidiary of United Wagon Co has joined the Railway Supply Institute, saying this will provide it with the opportunity to promote Russian products in the North American market.
MOLA and Headland Archaeology have formed the MOLA Headland Infrastructure consortium to bid to provide archaeological and heritage services for major infrastructure projects in the UK. 'The consortium has over 450 leading archaeologists who understand commercial realities and can flexibly respond to the pressures of large infrastructure projects', said Headland Archaeology Managing Director Tim Holden, adding that the consortium members hoped to use their experience with Crossrail and the Channel Tunnel Rail Link to win work on projects including High Speed 2.
The Czech Republic's VUZ railway research institute has certified Latvijas Dzelzceļš's Riga workshops to undertake series modernisation of Lugansk-built 2M62 diesel locomotives.
CCI Thermal Technologies Inc has acquired the track and turnout heating and snow removal business of Hovey Industries Inc, including the Hellfire and Inferno gas fired hot air blowers, horizontal air curtains, track ducts, replacement parts and associated equipment. These will now be offered under the Fastrax brand together with CCI Thermal's SwitchBlade electric turnout heater.
Dutch infrastructure manager ProRail has certified Arup as a design partner for rail and non-rail carrying civil and utility structures. 'For years our infrastructures team has worked effectively for clients like Rijkswaterstaat. We look forward to delivering similar successes with ProRail', said Sabine Delrue, Business Leader Infrastructure.
RAEX (Expert RA) has assigned United Wagon Co a credit rating A sub-level 3, with outlook stable. Corporate Ratings Managing Director Pavel Mitrofanov said the wagon manufacturer's 'close collaboration with lenders backed by its growing operating cash flows' were among the reasons to assign a higher rating.
CRRC and Kazakhstan Railways have signed a memorandum of understanding for co-operation which could see CRRC participate in the Kazakh market, undertaking the local production and maintenance of locomotives, passenger and freight rolling stock, engineering equipment and components.
On January 3 Vossloh completed the acquisition of Denver-based sleeper manufacturer Rocla Concrete Tie from Altus Capital Partners II. Rocla will form the Vossloh Ties Technologies unit within Vossloh's Core Components division.