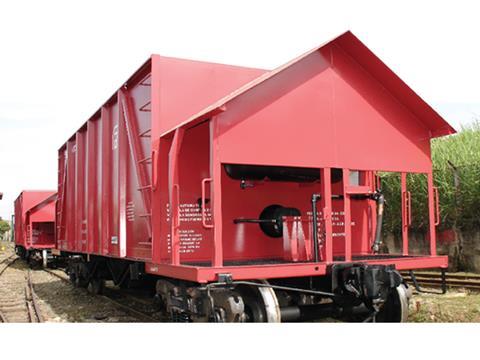 The Greenbrier Companies is negotiating to exercise an option to increase its stake in Brazilian wagon manufacturing joint venture Greenbrier-Maxion to 60%. For the quarter to November 30, Greenbrier-Maxion received orders for over 2 000 wagons. 'The need for high quality transportation equipment is poised to grow based in part on railcar fleet demographics with a high percentage of the fleet being older or obsolete', said Greenbrier Chairman & CEO William A Furman.
On January 11 VolkerWessels said it was exploring strategic options including a possible IPO and listing on Euronext Amsterdam, as the Wessels family intend to diversify their assets. The Wessels family emphasised their intention to remain as long-term shareholders.
Swiss engineering consultancy Enotrac has opened an office in Lausanne.
United Wagon Co has opened two more wagon repair facilities in Russia under agreements with Uralchem-Trans and Uralkali, taking its network to six training and 57 servicing centres in Russia, Kazakhstan and Belarus.
Professional services consultancy WSP Parsons Brinckerhoff is to change its name to WSP in May.
AAA group's AAA Canada aerospace manufacturing subcontractor has expanded into the rail and ground transport sector. This will enable it 'to grow, diversify and consolidate its specialised subcontracting offer for major players in the air, ground and rail industries', said Benoit Hudon, Senior Vice-President and COO of AAA Canada. 'This logical combination of the Aerospace and Transportation sectors will mobilise the cutting-edge expertise and technical qualifications of our specialised resources'. Raymond Bachant, former President of Bombardier Transportation in the Americas, is Senior Strategic Advisor at AAA Canada.
International law firm Vedder Price has joined the Rail Working Group, which represents the rail industry in regard to the implementation of the 2007 Luxembourg Protocol to the Cape Town Convention on International Interests in Mobile Equipment.
In its financial Q1 to November 30, The Greenbrier Companies received orders for 2 400 wagons valued at over US$230m. The backlog was 25 800 units worth $2·97bn, while wagon deliveries totalled 4 000, down from 4 600 in the quarter to August 31.
Frauscher UK has moved to a larger office at Farnborough.
Transport, utility and infrastructure engineering company LJA has opened its 21st office, in Conroe, Texas.