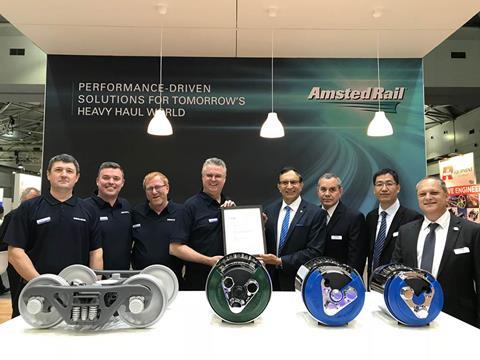 Gemco Rail and Amsted Rail have formed a partnership for the distribution of Amsted Rail products in Australia and New Zealand. Following training in quality, reconditioning procedures and production management, Gemco Rail's Perth facility has been granted a reconditioning certificate enabling it to recondition Brenco bearings.
The Canadian division of Rhomberg Sersa Rail Group, Sersa Total Track, has announced a partnership with Remcan Projects. This provides Remcan with STT's established rail maintenance and renewal operations in central and eastern Canada, including maintenance equipment and staff, while STT will realign its service offering and expand its fleet of high-production equipment to focus on sophisticated undercutting and grinding services. 'By focusing on what each party does best and working together, Remcan and Sersa will be able to offer a complete turnkey solution to all railway clients across North America', said Michael Match, CEO of Sersa Total Track.
Alstom has selected Teleste Corp to supply on-board passenger information and CCTV for its Citadis Spirit range of light rail vehicles for the North American market.
Bombardier Transportation is to hold a UK rolling stock supply chain workshop on January 23, open to existing suppliers and companies interested in finding out more about becoming a supplier. Bookings are being co-ordinated by the Rail Forum East Midlands.