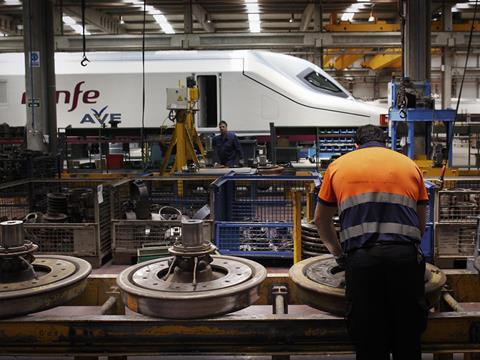 The European Investment Bank signed a €30m loan agreement with Talgo on December 21 to support the development of high speed and commuter trains, including a prototype EMU for short and medium-length journeys.
Stone Canyon Industries company A Stucki has acquired Magnus, which supplies bronze locomotive traction support bearings for the US and international markets. 'This acquisition and our recent acquisition of American Turbocharger Technologies together highlight our strategic focus on increasing our product suite in the locomotive aftermarket' said A Stucki CEO Bill Kiefer.
On January 1 Zvezda and Sinara subsidiary Ural Diesel Engine Plant established a joint venture through which they plan to invest 19bn roubles by 2025 to develop a range of modern diesel engines which would be produced in St Petersburg and Yekaterinburg.
Component supplier PowerRail is to distribute fuel injectors manufactured by Interstate-McBee. PowerRail Locomotive Services, PowerRail Mobile Maintenance and Rail Power Services will provide installations and upgrade services in the USA.
Belgian energy, defence, environment and industrial group Cockerill Maintenance & Ingénierie has acquired a 57% stake in infrastructure, maintenance equipment and spare parts supplier Compagnie Internationale de Maintenance. CIM will be part of CMI Services, one of the five sectors of the CMI Group. 'The French-Belgian grouping formed by CMI, Transurb and CIM is very complementary in terms of activities, commercial networks and subsidiaries, representative offices and agencies', said Franck Pasqualini, President of CMI Services, on January 3. 'This transport hub consolidates the historic heart of our activities in the sector and brings together substantial experience and know-how in mounting and financing international projects.'
Atos announced on January 2 that it had completed the acquisition of Siemens' subsidiary Convergence Creators Holding, which provides communication networks and cybersecurity software.
LDz Ritošā Sastāva Serviss has been certified to repair and maintain United Wagon Co rolling stock at its Daugavpils workshops.