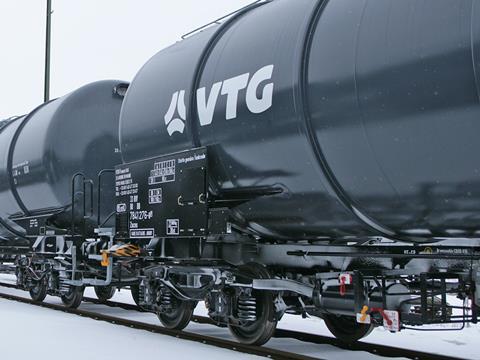 Indonesian manufacturer PT Inka is developing a 160 km/h multiple-unit design.
The Davis Wagon Services maintenance subsidiary of UK wagon manufacturer WH Davis Ltd is to use 3Squared's RailSmart Employee Development System software for staff competency management. 'The EDS software allows our assessors to carry out more frequent assessments on our staff; this improves the quality of our workforce, which has an overall effect on delivering the levels of service that our customers require', said Managing Director John Hall.
Consultancy North Star has launched an Australian branch with its base in Sydney. 'We've had some really positive signals from the Asia Pacific region about how our work in rail operations would be appreciated', said Managing Director Richard Brown on May 16. 'We now have a local team to handle the requests we are receiving. We're looking forward to working with colleagues old and new in Australia and the wider region.'
Leasing and logistics company VTG has announced a 'very bright start' to the 2018 financial year. First quarter revenue was up 4·6% year on year at €255·1m, EBITDA up 16·1% to €88·9m and group net profit up from €12·7m to €16·6m. 'We are benefiting from a persistently favorable economic climate, the associated high utilisation of our fleet capacity and comparatively low maintenance costs in our Railcar Division', said Chairman Heiko Fischer on May 17. 'The Logistics Divisions too are experiencing further positive development and increasing their earnings.'
Wabtec Corp shareholders elected Erwan Faiveley, Linda S Harty, Brian P Hehir and Michael W D Howell as directors at the annual meeting on May 15, and also ratified the appointment of Ernst & Young LLP as independent registered public accountants and approved proposals relating to executive and board remuneration.
Sinara-Transport Machines subsidiary SinaraPromTrans has expanded its shunting locomotive repair activites in at Polevskoy in Russia with the award of a contract by a large industrial railway operator.
Road-rail vehicle operator Quattro Group has acquired Glasgow-based plant specialist AB 2000. The acquisition was funded by RBS, with Rix & Kay and RSM Corporate Finance acting as advisers. AB 2000 Ltd and the selling shareholders were advised by Morton Fraser.