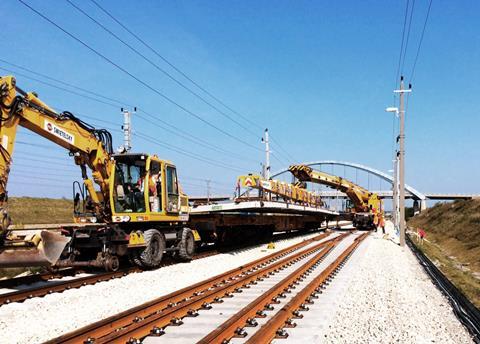 To make itself 'structurally fit for future challenges', infrastructure construction company Swietelsky Baugesellschaft mbH has been restructured as Swietelsky AG. Supervisory Board Chairman Günther Grassner explained that no stock exchange listing was envisaged, as the change in legal structure would have no impact on the ownership. Former managing directors Peter Gal, Walter Pertl, Adolf Scheuchenpflug and Karl Weidlinger have been appointed members of the Swietelsky AG management board, with Weidlinger becoming CEO.
Harting Technology Group reported that its sales in the year to September 30 had decreased by 1·6% to €750m. Its staff number rose to 5 268 worldwide from 4 980, and the total of overseas employees exceeded those in Germany for the first time. The Customised Solutions division opened a regional competence service centre in Zhuhai at the start of October to serve customers in the Chinese rail market.
Swiss power electronics and drives supplier Schaffner Group reported a steady performance at its Rail business when announcing its 2018-19 results on December 5. Rail accounts for around 13% of the company's turnover, which fell by 10·9% year-on-year to SFr197·4m as a result of a weakening in the automotive market. Looking ahead, Schaffner CEO Marc Aeschlimann said the business environment in 2019-20 would remain 'demanding', because of 'continuing subdued sentiment in world markets'.
The US Railway Supply Institute has appointed Harrison Wadsworth to its board of directors, following the retirement of John Paljug. Wadsworth is Director of Government Affairs for Siemens and currently serves as Chairman of RSI's Government & Public Affairs Committee.
ARS Altmann has appointed Alberto Picco as Chief Sales Officer.
Michael Fohrer has been appointed President of German railway industry association VDB, in succession to Volker Schenk who has completed his four-year term. CEO of Bombardier Transportation GmbH, Fohrer was formerly VDB's Vice-President for Rolling Stock, and will be replaced in this role by the CEO of Siemens Mobility Infrastructure André Rodenbeck.
Managing Director of Kapsch PublicTransportCom, Kari Kapsch has been elected President of the Austrian railway industry association VOB, replacing Manfred Reisner. Christian Diewald of Bombardier Transportation Austria becomes Vice-President.